A green garden is not just a joy to look at, walk through and relax in; it's also a paradise for bumblebees, honeybees, butterflies and other useful insects. A flowering garden is a sweet shop for them, particularly in view of the fact that intensive agriculture and increasingly paved gardens mean that they are struggling to find food. This is threatening these useful creatures, which are very important for pollinating flowers, plants and crops. A green garden with pollinating friends help to tackle the lack of diverse nutrition and results in plenty of buzzing, fluttering and humming life. These plants will supplement what is already growing and flowering in the area, and help to create a healthy biotope in your neighbourhood.
Achilla (Yarrow) Flat white, yellow, pink and purple umbels that sway beautifully in the wind. The flowers smell a bit like chamomile. The most common varieties are Achilla filipendulina with round yellow umbels and Achillea millefolium, which comes in many colours. Both have heavily incised leaves.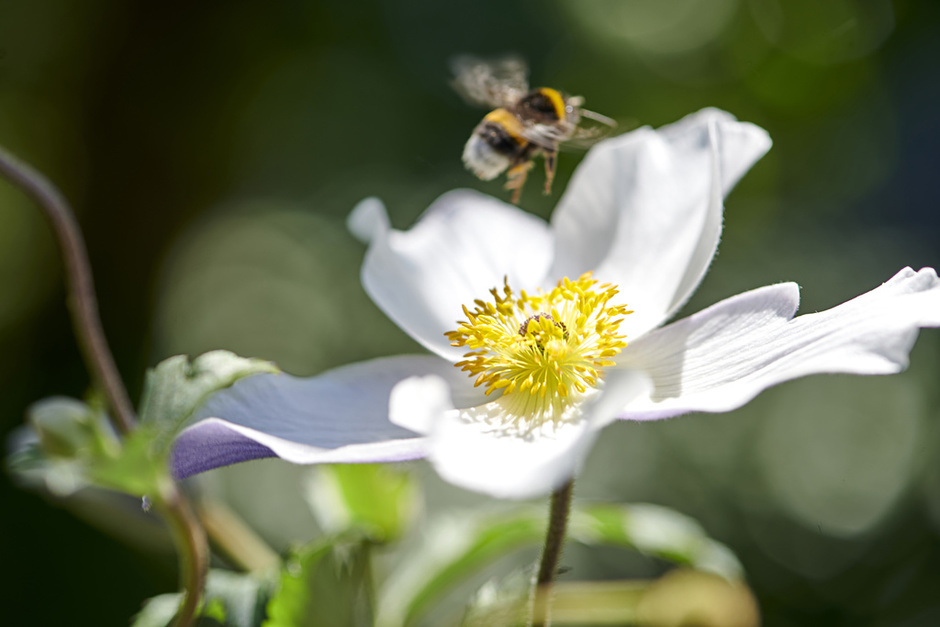 Agastache Tastes of aniseed, smells like liquorice, blooms with fabulous spikes packed with often indigo flowers. Not just popular with insects, but equally irresistible to birds in the autumn. There are also orange and red cultivars.
Alcea (Hollyhock) Majestic height up to 2-3 metres with enormous white, pastel-coloured or red flowers: this is a plant that can turn a wall or fence into a pollinator's dream holiday resort.
Astrantia One of the most beautiful summer flowering plants ever - a flowering pincushion in a star. And it comes in red, pink or white - no wonder that Bees & Co love it.
Anemone Fabulous white, pink, lilac and purple flowers with an even more attractive green, yellow or dramatic black heart. This pollinator friend makes your garden look even more exciting.
Care tips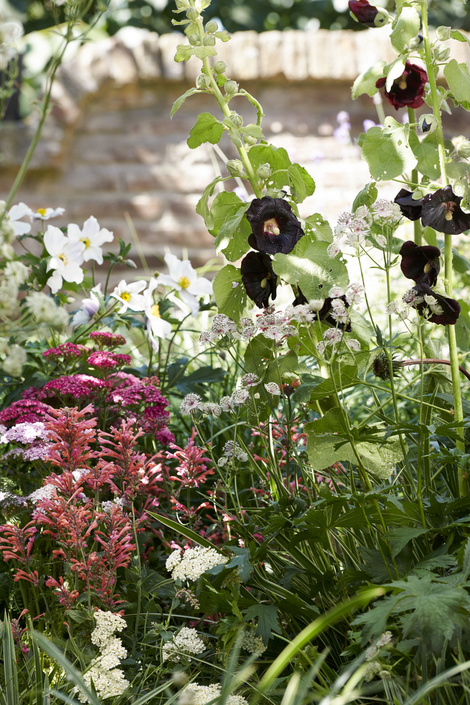 Hollyhock likes to be placed in the sun against a wall or fence, whilst the other pollinator friends prefer a sunny to partially shady spot.
Yarrow and Astrantia like to be in a well-draining soil, whilst the others prefer slightly damp soil.
With the exception of Agastache, give the plant extra food during the growing and flowering period.
Removing or cutting away wilted flowers will keep the plants attractive and make sure that the pollinator friends have enough energy to carry on flowering.
All the pollinator friends are hardy perennials that you can enjoy for years. In the autumn they die back above the soil and hibernate underground.
Leaving the dead leaves on the plant protects them against extreme winter conditions, and looks lovely with some frost or snow on them. Remove them at the end of February and the pollinator friend will shoot again in the spring.
After a few years the plants can be separated to keep them young and vigorous.
These plants represent a small selection of bee friendly varieties, many more can be found in our garden centre or through our webshop here.
Content and photo credit - Thejoyofplants.co.uk.