Apple (Malus) 'Cox Self Fertile' ® M27 (Step-Over)
Apple (Malus) 'Cox Self Fertile' ® M27 (Step-Over)
Apple Cox Self Fertile
Description: Cox Self Fertile is a self fertile form of Cox's Orange Pippin. Heavy, late crop of the best eating apple in the world. The fruit is orange over greenish-yellow with deep cream flesh that has sweet, aromatic flavour and is juicy and crisp. Best when it's picked and eaten straight from the tree or can be made into home-pressed apple juice. Good variety for growing in northern areas of the UK. Striking pinkish-white clusters of blossom during the spring. A highly recommended variety for less than ideal Cox areas!
History: Introduced in 1975 in Bristol, England. The original Cox's Orange Pippin was raised by Richard Cox at Colnbrook Lawn, Slough, Buckinghamshire, England in about 1825. Said to be seedling of Ribston Pippin.
Uses for this variety
Eating
Juice
Fruit attributes
Flowering group 3
Self-fertile
Suitable for patio
Picking month Early October
Stores until January
EAN code

5038838111358

Brand

Frank Matthews - Trees for Life

Rootstock

M.27 - Very Dwarf

Flowering Group

Group 3

Plant Type

Fruit and Edible Plant

Flower Colour

White

Foliage Type

Deciduous

Foliage Colour

Green

Fruit Colour

Orange, Green

Fruiting Period

October

Flower Form

Single

Plant Habit

Spreading / Branched

Garden Style

Fruit Garden

Aspect

North-facing, East-facing, South-facing, West-facing

Sunlight

Full Sun

Soil Type

Clay, Loam, Sand

pH

Neutral

Moisture

Moist but well-drained, Well-drained

Hardiness (RHS rating)

H6 -20 to -15ºC. Hardy - very cold winter

Attractive to Wildlife

Attractive to Bees

Special Attributes

Berries or Fruit, Self-fertile

Pot Size

11.5L

Uses for the Variety

Eating, Juicing
Rootstocks are used to control the ultimate size of a tree, we use a wide range of rootstocks from very dwarf which are ideal for smaller gardens to very vigorous which are commonly used in traditional orchards. Rootstocks can also offer disease resistance and tolerance of difficult growing conditions.
Apples
M.27 - Very Dwarf. Produces the true mini tree, varieties reaching no more than 2 metres with little support required, excellent for the small garden. Fruit size small. Good for triploids on strong soils but will stunt diploides on poor soils.
M.9 - Dwarf. Very productive and induces good fruit size. Poor anchorage needing permanent staking. Ideal for cordons and spindles. There are over 100 M9 types and together they account for the majority of commercial orchards worldwide.
G.11- Dwarf. From the USA and bred in the 1960s this rootstock is a cross between M26 and Robusta 5. Resistant to fire blight, phytophthora and tolerant to frost, this rootstock is slightly more vigorous than M9 and more productive.
M.26 - Semi Dwarf. Requires support on most sites. Good for bush and cordons in limited spaces. Suits certain varieties well i.e Bramley and Egremont Russet. Can induce 'bare wood' in some varieties such as Cox. Susceptible to woolly aphid.
M.116 - Medium vigour. Although bred at East Malling Research Station some years ago this selection has only just become commercially available. Between MM106 and M26 in vigour this very productive rootstock has resistance to collar rot/phytophora, replant disease and woolly aphid. As productive as MM106 with 10% less vigour this is likely to prove to be an all round performer for many commercial (particularly cider) and amateur situations.
MM.106 - Semi vigorous. General purpose for most types of tree; bush, cordon and half standard. Very productive from an early age. Can succumb to collar rot or phytophora on poorly drained soils. Resistant to woolly aphid.
MM.111 - Vigorous. Produces a standard on good soils and half standard on poor soils, excellent collar rot and general disease resistance. Resistant to woolly aphid.
M.25 - Very vigorous. Ideal for half and full standard trees. Heavy crops from an early age. Not resistant to woolly aphid.
Cherries
Gisela 5 - Dwarf. 50% of Colt. Ideal for commercial orchards, gardens and patio pots.
Weigi®2 - Dwarf. Comparable vigour to Gisela 5 but more robust to heat differences and stress. Increased fruit size and productivity.
Gisela 6 - Semi Dwarf. 75% of Colt. All the attributes of Gisela 5 but for less than good soils.
Colt - Semi vigorous. Fully compatible with all varieties, will contain trees to 4 - 5 metres. Considered very productive until the arrival of Gisela. Still good for bush and half standard cherries on thin soils.
Prunus F.12.1. - Very Vigorous. The best clonal selection of mazzard for standards. Good anchorage.
Pears
Compatibility: It should be noted that there are many incompatible varieties when worked on Quince (especially Quince C). In these instances a suitable interstock should be used and Beurre Hardy, Doyenne du Comice and Old Home are suitable. The latter will also impart some resistance to Fireblight.
Quince 'C' - Dwarf. and slightly earlier into cropping.
Quince Eline® - Dwarf. Similar size to Quince 'C' but more productive and very hardy. Smoother fruit with less russetting.
Quince 'A' - Semi Vigorous. The ideal root stock for bush trees.
Pyrodwarf - Vigourous. A German selection giving something between Q.A and Pyrus communis from early observations. Probably more vigorous than claimed. Early signs are very promising due to early fruiting influence, uniformity and resistance to fireblight through its Old Home parentage.
Pyrus communis (Seedling pear) - Very vigorous. More suitable for half standard and especially standard trees.
Pyrus Kirchensaller - Very vigorous. A more uniform and productive selection of Pyrus communis.
Apricots / Peaches / Nectarines / Plums
Pixy - Semi Dwarf. Ideal for size containment in the garden. On very strong soils it still has commercial use for strong growing shy cropping varieties such as Marjories, Avalon and Excalibur.
VVA-1 - Semi Dwarf. Pixy size with better fruit size, yield and winter hardiness.
Torniel - Semi-Dwarf. A specialist rootstock for improved fruiting yield and fruit size.
Krymsk 86 - Medium. Compatible with apricots, peaches and nectarines. More tolerant of heavy wet soils with better anchorage.
Plumina ® (Ferlenain) - Semi Dwarf. A French selection with similar tree size to Pixy but improved fruit size. Grows strongly in the first few years and then settles quickly into regular cropping. Some suckers.
Jaspi ® - Semi Vigorous. A french stock, untested as yet but with St Julien 'A' vigour and good resistance to root aphixiation in wet situations.
Wavit - Semi Vigorous. A robust disease resistant medium vigour, free standing and non suckering rootstock for plum, gage and damson, mirabelles and apricots proven to suit a wide range of soils and conditions. (SJA -10%)
St. Julien 'A' - Semi Vigorous. This is fully compatible with all plums, damsons, gages, peaches, nectarines and apricots and many ornamental prunus species. Good yield influence. Not suitable for poorly drained soils.
Brompton - Vigorous. Very suitable for standards, does not sucker and fully compatible with all varieties unlike its predecessor such as Myroblan.
All fruit trees will crop satisfactorily in an urban situation as insect pollination activity covers considerable distances.
Below is some useful information for all you need to know about pollination.
Self Fertile
Look out for the Self Fertile symbol on our fruit labels. This means your tree will crop satisfactorily on their own. Each of the fruit groups have varieties that are self fertile, a few in apples, pears and cherries and all apricots, nectarines and peaches.
Flowering Groups
Look out for the Flowering Group symbols, flowers with numbers 1-5. Each of the fruit trees are divided into 5 flowering periods. This covers approximately a month from beginning of period 1 to the end of period 5. For trees to cross-pollinate they need to be the same or adjacent flowering group, e.g. an apple tree of flowering group 3 will cross-pollinate with those of groups 2, 3 and 4.
Good Pollinator
Particularly good pollinators are highlighted by our bee symbol.
Triploid
Triploid varieties are marked with this symbol in the fruit sections. To pollinate, they should be accompanied by two other non-triploid varieties that will also pollinate each other or one variety that is self fertile.
Top Tips
Two trees of the same variety will not pollinate each other unless they are self fertile.
Always bear in mind that crop yield will be affected by adverse weather and in these circumstances it is helpful to have several different varieties that provide strong and ample pollen for cross pollination opportunities.
It is quite normal for trees to have a light cropping year after a heavy one – like us they need a rest after a big effort. See more on this below under Biennial bearing
For fruit trees to pollinate one another they need to be of the same type e.g both apples or both pears.
Apples & Pears
Follow the tips above for guidance for apples. Apples are regular croppers and Malus crab apples are excellent pollinators for fruiting apples.
Pears
Follow the tips above for guidance for pears. Pears prefer to have a warm sheltered position to set a good crop.
Plums, Gages, Damsons and Mirabelles
Most varieties are self fertile. The few which aren't are unlikely to need a pollinator unless planted somewhere very remote.

Cherries
Most good garden varieties are self-fertile. All self-fertile varieties are known as 'Universal Donors' in that they will pollinate any other cherry trees that flower at the same time, so if unsure then just include at least one self-fertile variety in your garden. Sour cherries, such as Morello and Meteor Korai, are all self-fertile, they can pollinate sweet cherries but sweet cherries will not pollinate them.

Peaches, Nectarines, Apricots, Almonds, Medlars & Mulberries
All varieties are self fertile so don't need a pollinating partner.

Quinces
A few Quince varieties are self fertile. Other varieties may need to be accompanied with a pollinator.

Walnuts
Broadview and Buccaneer are the two self-fertile varieties we would recommend for gardens. Other varieties are likely to be partially self-fertile and would benefit from nearby pollinators. Walnuts are pollinated by wind rather than insects so bear this in mind when choosing your site.

Hazelnuts
Hazels will crop better if varieties are mixed together but due to the abundance of hazels in the wild, good crops usually appear. Like walnuts, pollination is mostly carried in the wind.

Malus Crab Apples
These are a very useful range of trees where many varieties will pollinate apples. Mostly all ornamental Malus are self fertile themselves, indicating how useful their pollen is for cross pollination.
Biennial bearing
Some fruit trees can produce a heavy crop one year followed by a much lighter crop the year after, this is known as 'biennial bearing' or 'biennial cropping'. Traditional or 'heritage' varieties tend to be more biennial bearing than many modern varieties that have been bred to crop more regularly every year. Biennial bearing is a natural phenomenon as a heavy crop can exhaust the tree's resources leaving it with insufficient energy to set much fruit bud for the following year.
It is possible to manage the tree to produce a more regular yearly crop by using the following methods:
In the 'on' year thin the fruit before it ripens and summer prune before July.
Following an 'off' year heavily prune in the winter to reduce the likely heavy forthcoming crop.
Repeat either of these remedies as necessary until the tree settles into an annual cropping habit.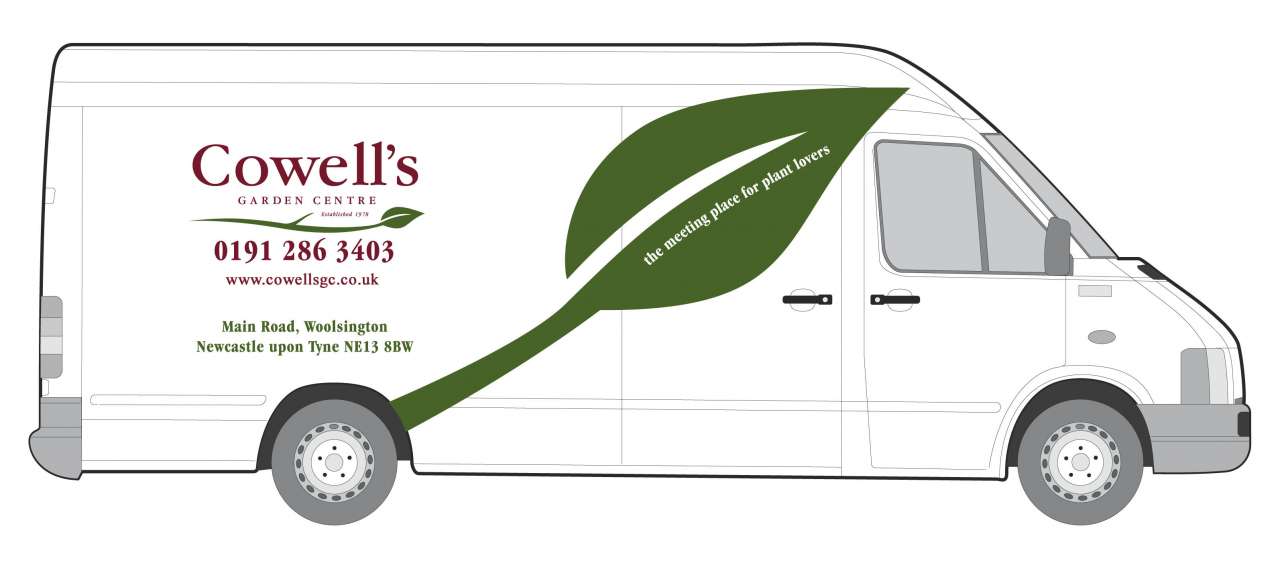 This product is only available for local delivery to the postcodes below via our own delivery service. We will contact you to arrange delivery within 7 days of your order being placed.
£8.00 – NE13, NE20, NE3, NE5
£15.00 – NE12, NE15, NE2, NE23, NE4, NE7
£20.00 – NE1, NE21, NE22, NE24, NE28, NE40, NE41 - 42, NE6, NE8
£25.00 – NE10, NE11, NE16 - 17, NE25 - 26, NE30, NE39, NE43, NE61 – 64, NE9
£30.00 – NE31 – 38
Write a review about "Apple (Malus) 'Cox Self Fertile' ® M27 (Step-Over)"
We want to know your opinion! Write a review about the product "Apple (Malus) 'Cox Self Fertile' ® M27 (Step-Over)" and win a National Gardening Gift Voucher of £25 !