Helleborus 'HGC® Jonas'
This evergreen perennial produces forward-facing single white flowers borne on tall stems over a long period through winter.
Flowers from December to March
Great in woodland gardens pots & containers
Remove faded, damaged or dead foliage when the flowers appear. Cut back spent flower stems
Hardy & perennial for many years
Best in partial shade in a fertile moist but well-drained soil
Height 40cm - Spread 40cm
---
EAN code

5019801018447

Brand

Pot Size

1.5L (15cm)

Aspect

East-facing, North-facing, South-facing, West-facing

Attractive to Wildlife

Attractive to Bees

Flower Colour

White

Flower Form

Single

Flowering Month

December, February, January, March

Foliage Colour

Green

Foliage Type

Evergreen

Garden Style

City & Courtyard Garden, Cottage & Informal Garden, Patio & Container, Woodland Garden

Hardiness (RHS rating)

H7 colder than -20ºC. Very hardy

Height

40cm

Spread

40cm

Moisture

Moist but well-drained

pH

Alkaline, Neutral

Plant Habit

Clump-forming

Plant Type

Perennial

Planting Types

Borders and Beds, Underplanting of Deciduous Trees and Shrubs

Season of Interest

Spring, Winter

Soil Type

Chalk, Clay, Loam

Special Attributes

Low Maintenance, Some Resistance to Rabbits & Deer

Sunlight

Partial Shade

Toxicity

Skin Irritant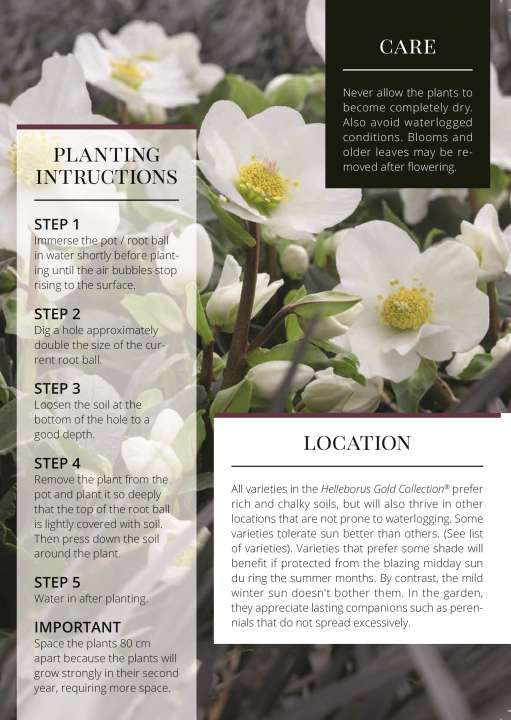 Care
Christmas Roses, Snow Roses and Lenten Roses all happily grow and thrive well without requiring a great deal of maintenance if planted in the right spot. Even in planters, the charming winter flowerers don't require a great deal of work. To avoid the occurrence of frost drought, water the Helleborus plants sufficiently during periods of mild weather.
In the summer, you want to move the planter to a shady place and water it occasionally to prevent the plant from drying out.
Flowers
Removing dead flowers from hellebores during the flowering season is normally not necessary; the slightly pink or green tones the flowers take on as they fade actually extend the flowering season in winter. Remove the seed pods before they open, as offspring plants normally don't flower well and might suppress the original plants.
Leaves
With Lenten Roses, it is recommendable to remove all leaves before the plants start to flower in December and January (when budding stems are approximately 10 cm in height). The old and brown leaves of Christmas Roses and Snow Roses can best be removed in the spring and summer.
Feeding
Helleborus plants do not require any fertiliser in their first spring. Feed older plants from February onwards and apply a second dressing of fertiliser in midsummer, when the plants grow new roots and initiate flower buds for the next season. Organic fertilizers such as horn shavings and compost have proven to be the fertilizers of choice. If the plants suffer lime deficiency, soils can be improved by working in Dolomite lime or crushed eggshells.
The leaves that have fallen off nearby deciduous trees provide a layer of mulch in winter; simply leave them lying on the ground. They form a layer that activates soil life. Helleborus is very sensitive to root injuries. For this reason, the ground around it should not be dug.
Tracked Delivery (Express) - £6.99
Zone 1 - England, Wales & Scotland (excluding Highlands & Islands)
Orders dispatched within two working days
Parcels are sent via DPD & DHL on a next day service, requiring a signature on delivery
Fully tracked from door to door with text or email notifications along the way to keep you informed
1 hour time slot notification
Dispatch days Monday - Thursday (excluding Bank Holidays)
Delivery days Tuesday - Friday
Tracked Delivery (2-4 Days) - £14.99
Zone 2 – Highlands & Islands of Scotland
Parcels are sent via a tracked 48 service, requiring a signature on delivery
Tracking code provided on dispatch. Email or SMS notification on day of delivery
Orders dispatched within two working days
Please expect 2-4 days for delivery
Tracked Delivery (3-4 Days) - £14.99
Zone 3 – Isle of Man, Isle of Wight & Isles of Scilly
Parcels are sent via a tracked 48 service, requiring a signature on delivery
Tracking code provided on dispatch. Email or SMS notification on day of delivery
Orders dispatched within two working days
Please expect 3-4 days for delivery
Parcel Tracking
Your order will be sent using a fully tracked service, providing us with some information on the parcel's status, location and route at up to 5 points along the delivery process. It also allows us to provide you with the same information. Once your order has been dispatched you will receive an email (please check spam/junk email folders) with a tracking code and instructions on how this information can be retrieved.
Write a review about "Helleborus 'HGC Jonas' 1.5L"
We want to know your opinion! Write a review about the product "Helleborus 'HGC Jonas' 1.5L" and get a chance to win a National Gardening Gift Voucher of £25!