Home Grown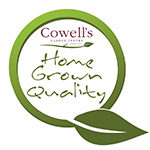 Did you know we grow over 100,000 plants on our on-site nursery?
Look out for the 'Home Grown' plants throughout the Garden Centre, these plants are grown here at Cowell's in our own nurseries, by our own expert staff.
With over 30 years of growing experience, you can expect the highest quality of plants.
Home Grown Quality at Cowell's.